On the 28th of June at 04:53 UT the Moon from Capricorn opposes the Sun in Cancer forming the Strawberry Full Moon.
This is not a usual full moon as the aspects are pretty strong, creating a rather 'explosive' cosmic vibe. This is the beginning of an extremely interesting yet challenging to the point of a troubling period which will lead us to the time of multiple Eclipses in the middle of the Summer.
Strawberry Full Moon's Magic
But first things first. Let's see a couple of things about this beautiful Strawberry Full Moon from the Magical Full Moon guide of 2018. For many tribes, this is the peak of the Strawberry picking season.
This is the time when we feel right and full. Fruits and heat are the keywords defining the era of the Strawberry Moon. Our fertility spells have worked miracles and now we taste the results of them. The nights are going warmer and stronger.
General Predictions for the Strawberry Full Moon
However, this particular strawberry full moon makes things pretty hard yet interesting. For starters, the Moon conjuncts with the Kaus Borealis, a fixed star in the Archer's bow constellation which has a mixed Jupiter/Mars quality.
Recommended: How The June 2018 Strawberry Moon Will Affect You, Based On Your Zodiac Sign
This specific star is believed to promote justice and cause mental stimulation. Hence, this Strawberry Full Moon is going to give a sense of justice, humanism, and idealism. The Spirit of Earth seems to be risen seeking for the Truth.
Full Moon conjuncts with Saturn, the Planet of Witches
Moreover, this Strawberry Full Moon receives the cold touch of Saturn – who is actually retrograde, like this was not enough. You see where I'm going with this. Things are going to get pretty tough here in the material plane. But what about the Magical Plane?
Reality may break our hearts so the more grounded we are the more we are going to receive in this Full Moon. However, this is a great time to work your magic as magical energy is on the loose. Saturn is 'the Planet of Witches'. Never forget that. Full Moon and Saturn open the Gates of Power. The only question is what are you going to do about it?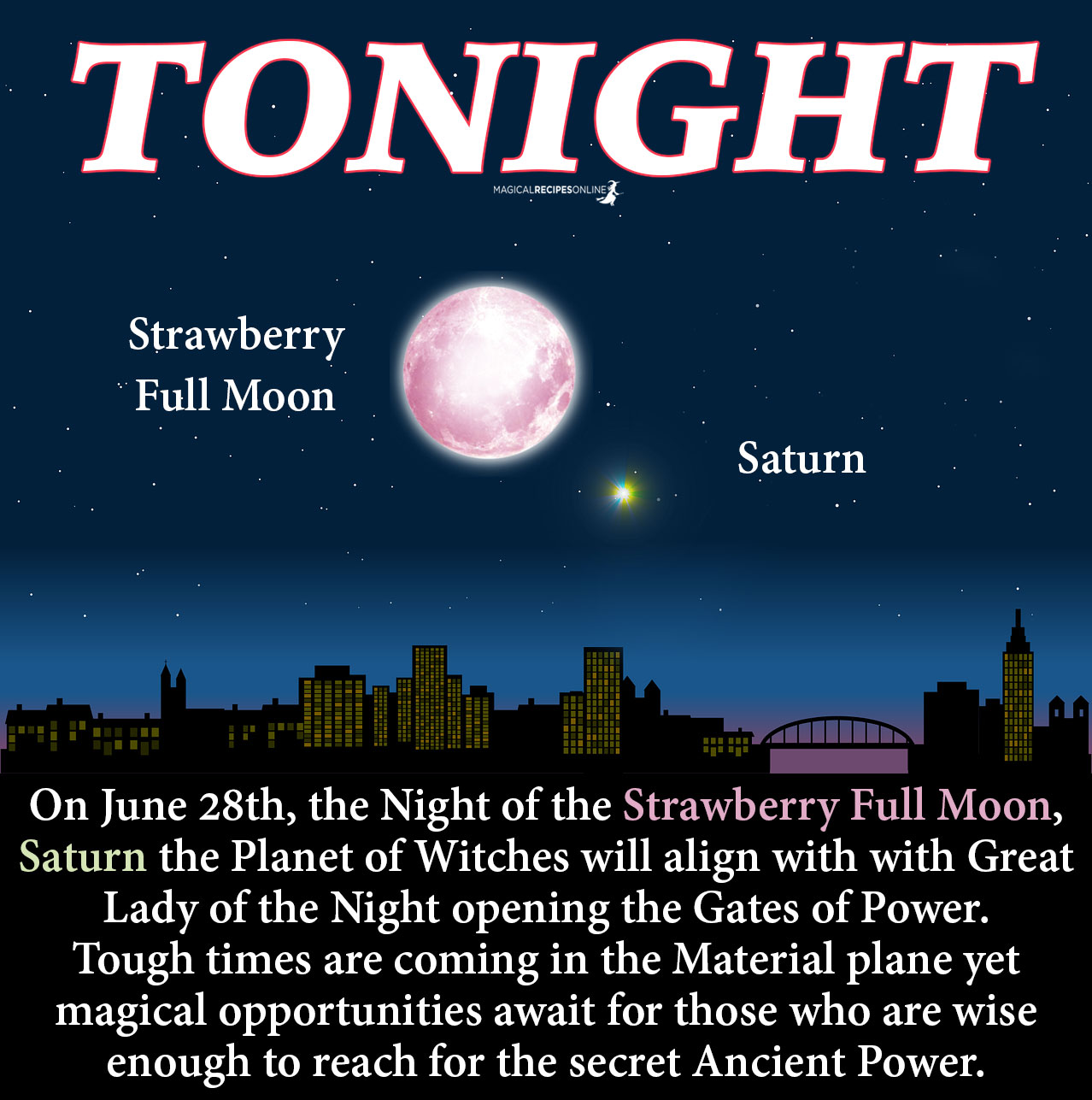 On the other hand, Venus quincunx with Neptune makes a promising night for Magical endeavors. Karma strikes back but in a rather sweet and balancing way.
Something that was meant to come and delayed will find a way back in your heart and your life. What this may depend on your Karmic background, yet everyone is going to face this obvious Karmic impact.
Predictions for All Zodiac Signs
Aries: Focus on Career & Let Love will heal your heart
The first zodiac sign is deeply affected by this Strawberry Full Moon. As the Full Moon occurs in the tenth house of your solar horoscope, career and all advances that have to do with your job and the relations with your supervisors and customers are affected.
In the next couple of days, you'll be asked to face more responsibilities that you are ready to. However, love is here to heal your heart as Venus will try to make things better giving you a huge blast of happy energy.
Taurus: Evolution and Passionate Nights
This Strawberry Full Moon seems to favor your Zodiac Sign. For starters, you are going to have the opportunity to reach for greater status in your life.
Education and mystical knowledge will help you wake your spirit up. Your feel magical and spiritually awakened.
Moreover, your Governor, Venus is about to make your nights magical. Your home will be a source of healing, love, and affection and you are going to love it even more. It may also mean that you are about to move to a new house or enjoy a re-decoration.