This is a great week (especially on Thursday) to draw on your energy and passion to get what you want out of life. You may also notice a need to climb the ladder and achieve a more powerful position in your profession.
Take care, however, that your intense desire to win does not make you try to control other people. Any ruthlessness would result in power struggles and confrontations.
You may have to deal with other people trying to dominate you or challenge your ego or position at work. This is a good week for sustained and concentrated effort, not for boasting or picking fights.
Ready to see what your zodiac sign can expect for this week? Let's look to the Tarot!
Aries: Page of Cups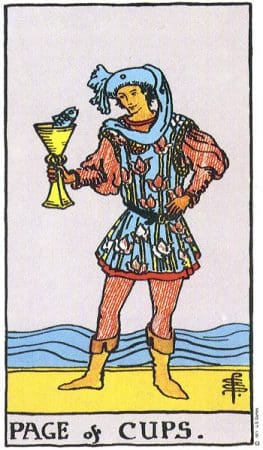 The Page of Cups is a signal to allow the childlike side of yourself to come forward. Like most of the Cups suit, the Page is an uplifting and encouraging sign to receive a tarot reading.
It also can show that someone, likely someone who is younger than you, is coming your way before long with a message for you.
The Page of Cups shows a need to play, to dream, to have a little fun. When this card appears, it sometimes means that you've been taking yourself far too seriously.
Margot Fonteyn said "The one important thing I have learned over the years is the difference between taking one's work seriously and taking oneself seriously. The first is imperative and the second is disastrous." Know the difference.
Taurus: Four of Cups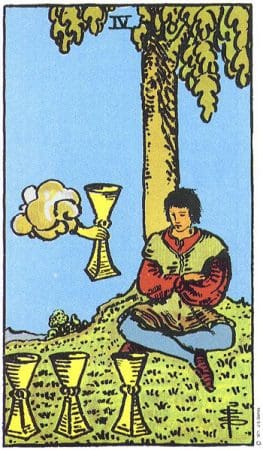 The Four of Cups is a card about wishful thinking. It warns us to remember to pay attention to what "is" now, and the many blessings we each currently experience, and not to worry too much about "what could be." It is all too easy to overlook what we already have in the pursuit of what we don't have.
Be sure that you are "counting your blessings." Don't spend too much time in self-pity or wishing your life away. A lot of life has to do with where we put our focus. Put your focus on the things and people in your life that you have to be thankful for. Consider a gratitude journal.
Gemini: Three of Cups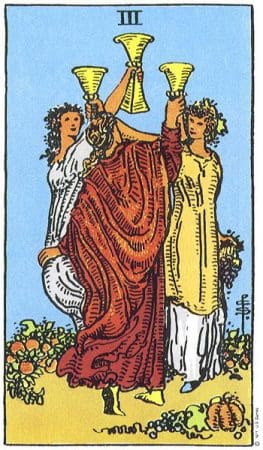 The Three of Cups is often considered to be a card of "reunions." But this is not always a romantic reunion, alas… it's reunion in the broadest sense.
You could run back into someone or something that you have been away from for some time. It's generally considered to be a happy reunion, an upbeat card.
So things should be going well. You can look forward to at least one pleasant reunion with someone or something that you have been apart from for some time.
Recommended: Choose 5 Tarot Cards To Reveal Information About Your Current Situation
It also can mean celebration – your own or someone that you care about – such as the celebration around a new baby, wedding, or another happy occasion.
Cancer: Four of Wands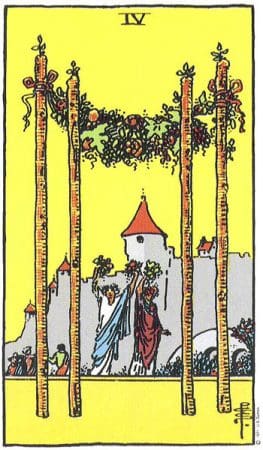 The Four of Wands often indicates that you may be attending a special event, one which will be way more fun than you are anticipating. So, go, and have a good time. Business is also likely to be going very well at this time, you will be proud of yourself, and others will be proud of you.
Although this is a very positive card in a reading, it shows also a need to keep your wits about you, that although you deserve and should treat yourself to some fun, but know that you are still in a building up phase and now is not the time to rest completely on your laurels. This card can also sometimes mean that you will be moving your place of residence.
Leo: The World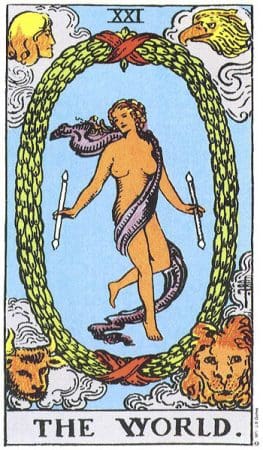 The World can signify that you are figuratively feeling the weight of the world on your shoulders, which is not an easy place to be. It's an excellent time to check how well you do at "asking for help" when you need it. Remember you don't have to do everything on your own.
This can often be a card of completion. You've worked hard, and you are almost to the "finish line" in some way. Don't quit now that you're almost finished!
You're almost definitely in need of some well-deserved rest and relaxation; don't be afraid to take it. You are getting closer to "who you really are," at your deepest levels. The World is associated with the Constellation Ursa Minor (Little Bear) and the Hebrew letter Tau.
Virgo: The Moon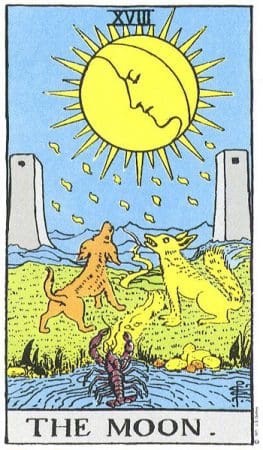 The Moon means that things may seem somewhat confusing to you now. You may find it hard to understand where you are coming from, much less what others are thinking and feeling! So you need to try to sit with the uncertainty, don't try to force things or people to do things before they are ready.
You are definitely in a more psychic and intuitive phase than usual, so it will be important for you to trust your instincts and your impressions, even if you don't know where they are coming from.
Also, not that you need to be mistrusting, but it will be helpful for you to realize that when this card appears, it's possible that all is not what it seems. If you feel you can't trust someone, then you probably can't.
Go with your gut. If you are waiting for an answer from someone, it may, unfortunately, take longer than you would like for it too. Try to stay patient. The Moon is associated with the Constellation Canis Major (The Big Dog) and the Hebrew letter Tzaddi.
Libra: The Star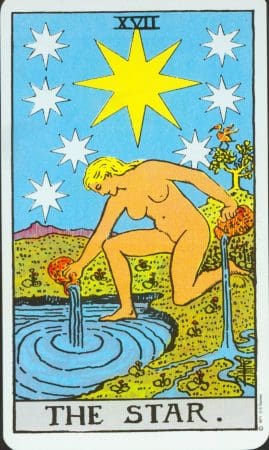 The Star is likely to make you feel rather inspired. You will be feeling more hopeful about the future, and more confident that your emotional and financial needs will be met. This is also a very spiritual card. You may find yourself for a time feeling at one with all of creation. Savor it.
The Star is a definite good omen. You are probably already inclined to be thinking positively; this is a time to do so specifically. What are the changes that you would like to make or see in your life?
Recommended: Choose A Tarot Card & Reveal Your Love Potential
Make a list. You can do nearly anything that you set out to do now. Think big. The Star is associated with Constellation Pisces (The Fishes) and Constellation Andromeda (The Chained Woman) and the Hebrew letter Pe.
Scorpio: The Fool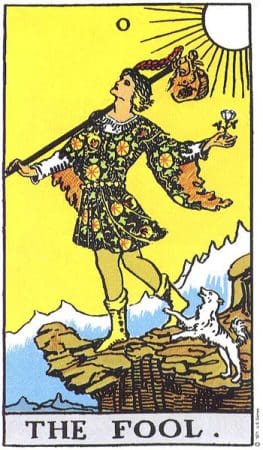 The Fool is always an indicator of newness; as well as the purity and open-hearted energy of a child. This is generally considered a positive card, with the warning that it's important to take time to be sure that you are "looking where you're going."
In general, this card would show new beginnings that have some deeper spiritual meaning – such as, starting a meditation practice or a relationship, as opposed to buying a new pair of shoes.
The appearance of the fool can depict an important "fresh start." The Fool is associated with Constellation Cepheus (The Ethiopian King) and the Hebrew letter Shin.
Sagittarius: Ace of Pentacles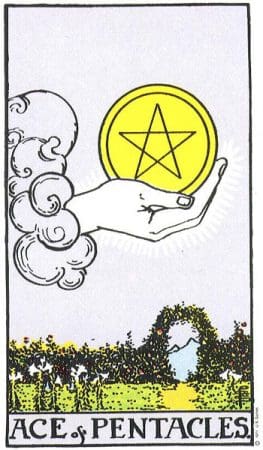 The Ace of Pentacles is likely to find you enjoying a new beginning on several levels, and this is a very positive new beginning. Your health and vitality are likely to be at a high point.
The appearance of this card is usually the sign of a turn for the better in terms of fortune and wealth. Sometimes it can even show gifts of money or inheritance from unexpected sources but it certainly doesn't mean that someone has to pass over for you to receive this inheritance.
You are likely to be feeling optimistic, upbeat, and hopeful about your future. Things should be going well, in general. You could well be starting something new very soon, this could be in the realm of work or personally, but either way, it's a good thing.
Capricorn: Knight of Wands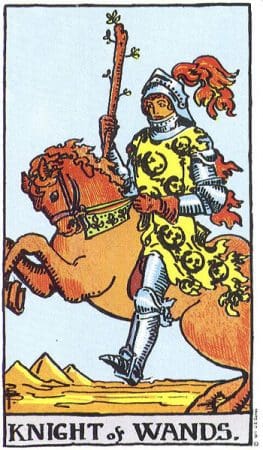 The Knight of Wands is an excellent omen for travel if you can manage to get away. You should be feeling charged up, full of energy, and ready to get things done. Your self-confidence is likely to be increasing and this should help you toward your goals.
Knights are often message bearers, and in the Wands suit, the messages are likely to be positive and related to work or career. Your projects are likely to be/have been more successful than you would have expected or predicted. You have a lot of reasons to feel pride. Savor it.
Aquarius: Six of Wands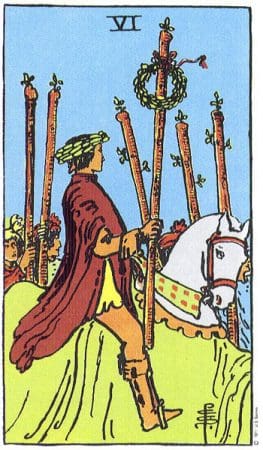 The Six of Wands is a very positive omen. It shows that despite the challenges you are facing, you will overcome them and come out on top. This card also points toward literal or metaphorical movement; things are changing, in a positive way.
Recommended: Find Your Year Card And Connect To Your Personal Tarot Message
The Six of Wands is about happiness and celebration. You are about to see some results for your hard work and efforts. Give yourself a break or treat yourself in some way. You have certainly earned it.
Pisces: Two of Swords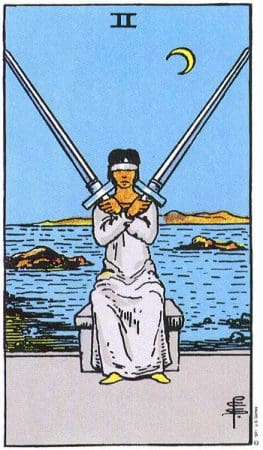 The Two of Swords is often a card about partnership and balance. It usually refers to a "partnership" with just one other person as opposed to with groups of people.
This card shows a need for giving and take. None of us are always right 100% of the time, and everyone to some degree has something to offer. Consider to what degree your life, and your partnerships, are in balance.
The Two of Swords tells us that your partnerships are likely to be going at least somewhat well, whether these be friendships, romantic, or business.
However, you should consider the depths of your commitment to equality in these and whether you are being treated as an equal by your partners. If you are not, it may be time to bring things back into balance. This will almost certainly need open communication on your part. Nothing changes without effort.
Source: mysticalraven